Municipal Negligence Strikes Again
Municipal Negligence Strikes Again
Those who know me well are aware of the City of Altamonte Springs water main break that occurred on 2013-01-14 and did over $100,000 in damage to our house. I attribute that event to negligence on the part of the city, but due to the doctrine of sovereign immunity we were unable to seek damages from the city. Well, municipal negligence has struck again, and this time it's personal (injury).
Before I continue, I realize there are people with much more severe bike accidents and that mine is really quite mild by comparison. I mean no disrespect to those who have had more serious accidents.
At around 9:45 pm Saturday night 23 May 2015 I was returning home from a mind-clearing bike ride. I was riding east on the north sidewalk of SR 414 between Bear Lake Road and Eden Park Road, as shown in the picture. It was dark and this stretch of sidewalk has no streetlights.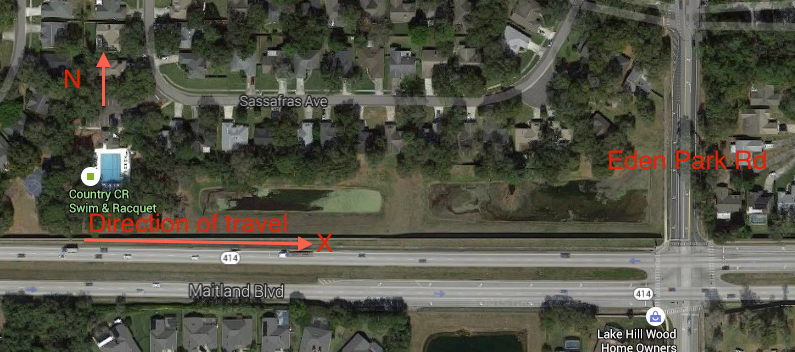 Right about where the red X is in the picture above I collided with a heavy metal boring tool that had been left in the sidewalk without any warning sign or sidewalk closed sign in my direction of travel. The boring tool is shown here in a picture I took on Monday 25 May 2015.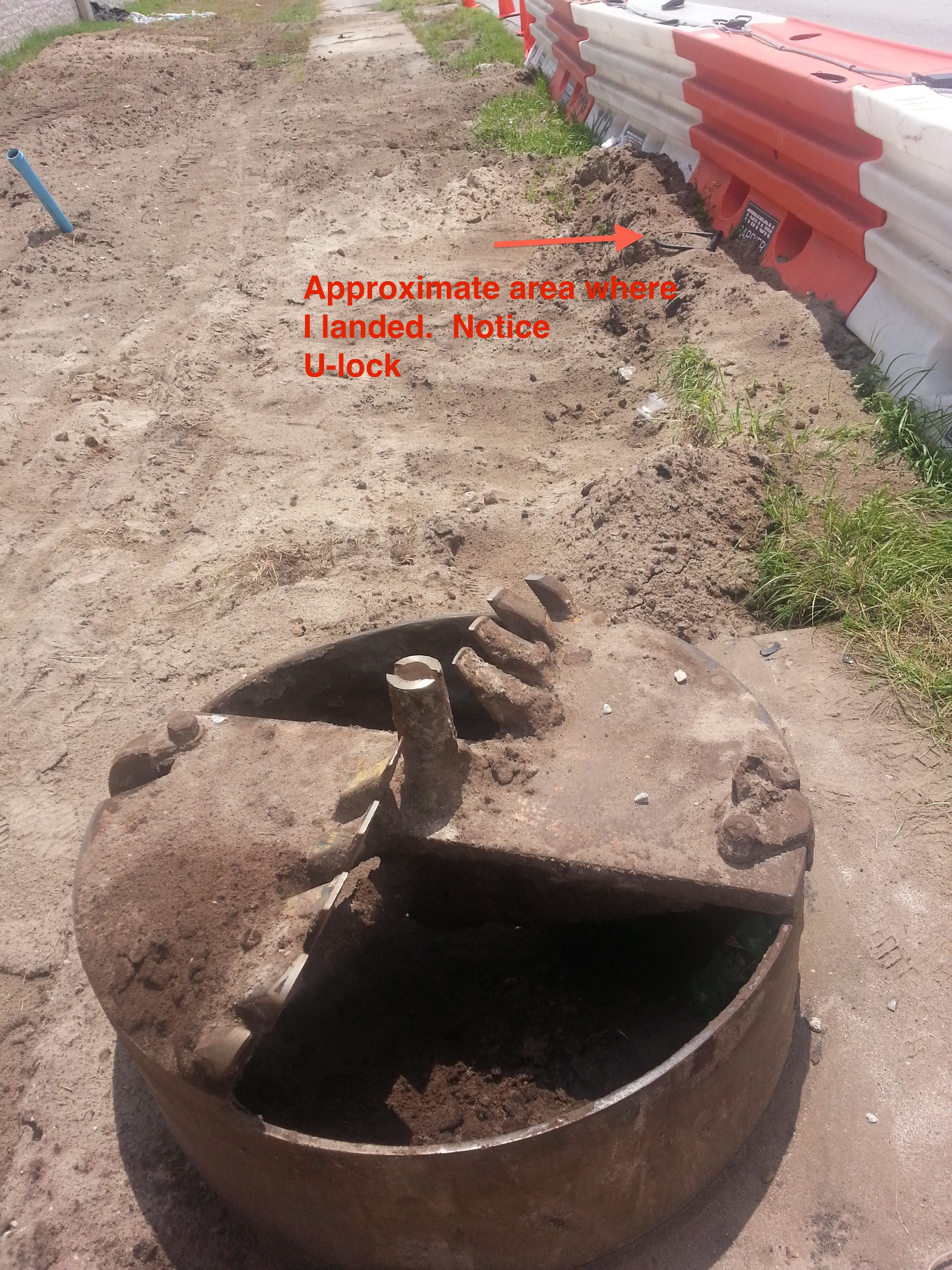 I was thrown clear of the bike and landed about five feet from the boring tool, as shown above. You can see where my u-lock landed. I retrieved it when I took the pictures. Thank God for the fact that my impact zone with the ground was entirely sand, presumably because the boring tool had been used to remove the sidwalk. I landed mainly on my right shoulder. More on the injury later. Here is a picture of the approach to the boring tool relative to my direction of travel. Note the absence of a warning sign.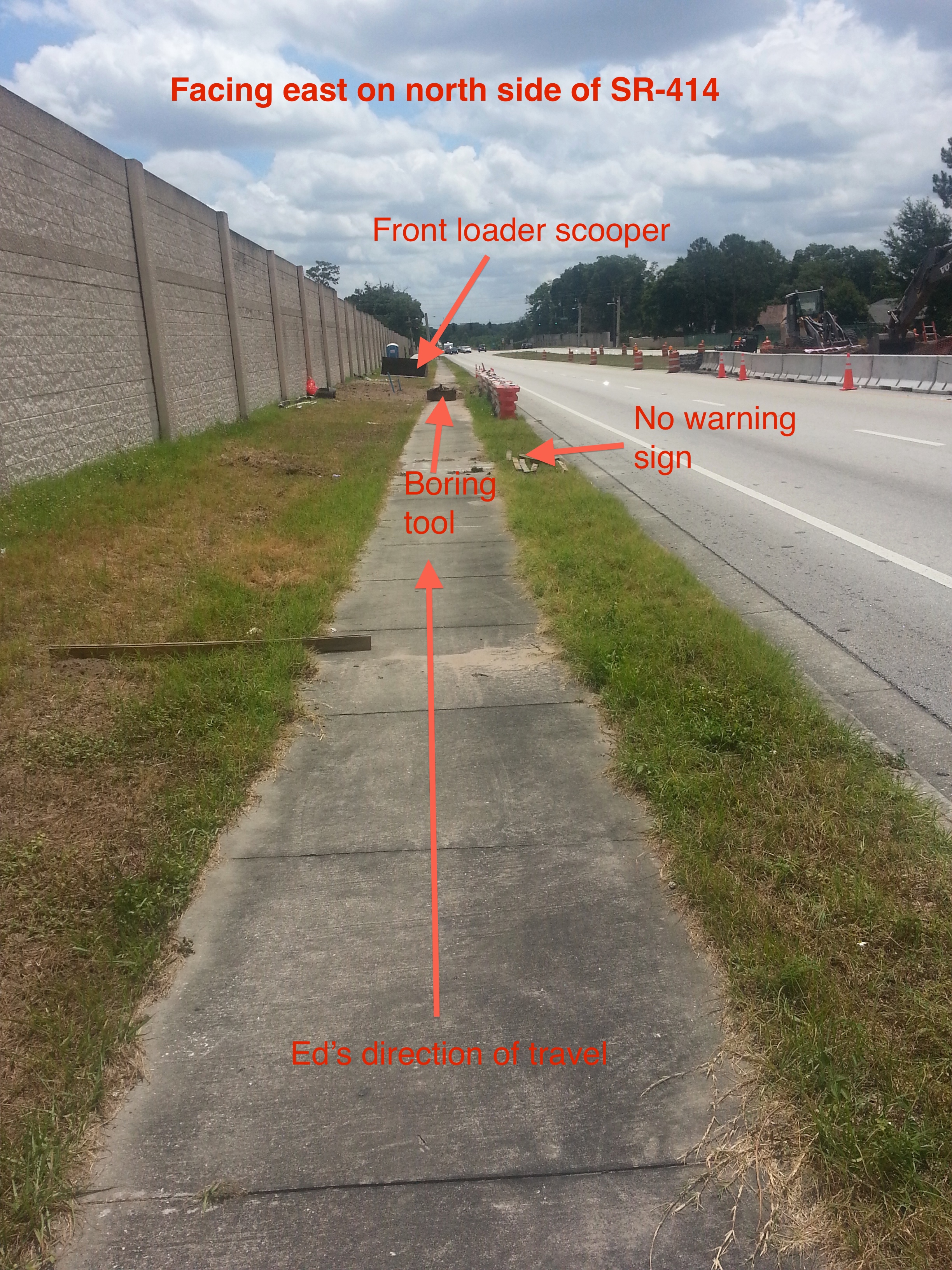 I observed that I was unable to roll my bike due to the damage sustained to the front fork, shown here.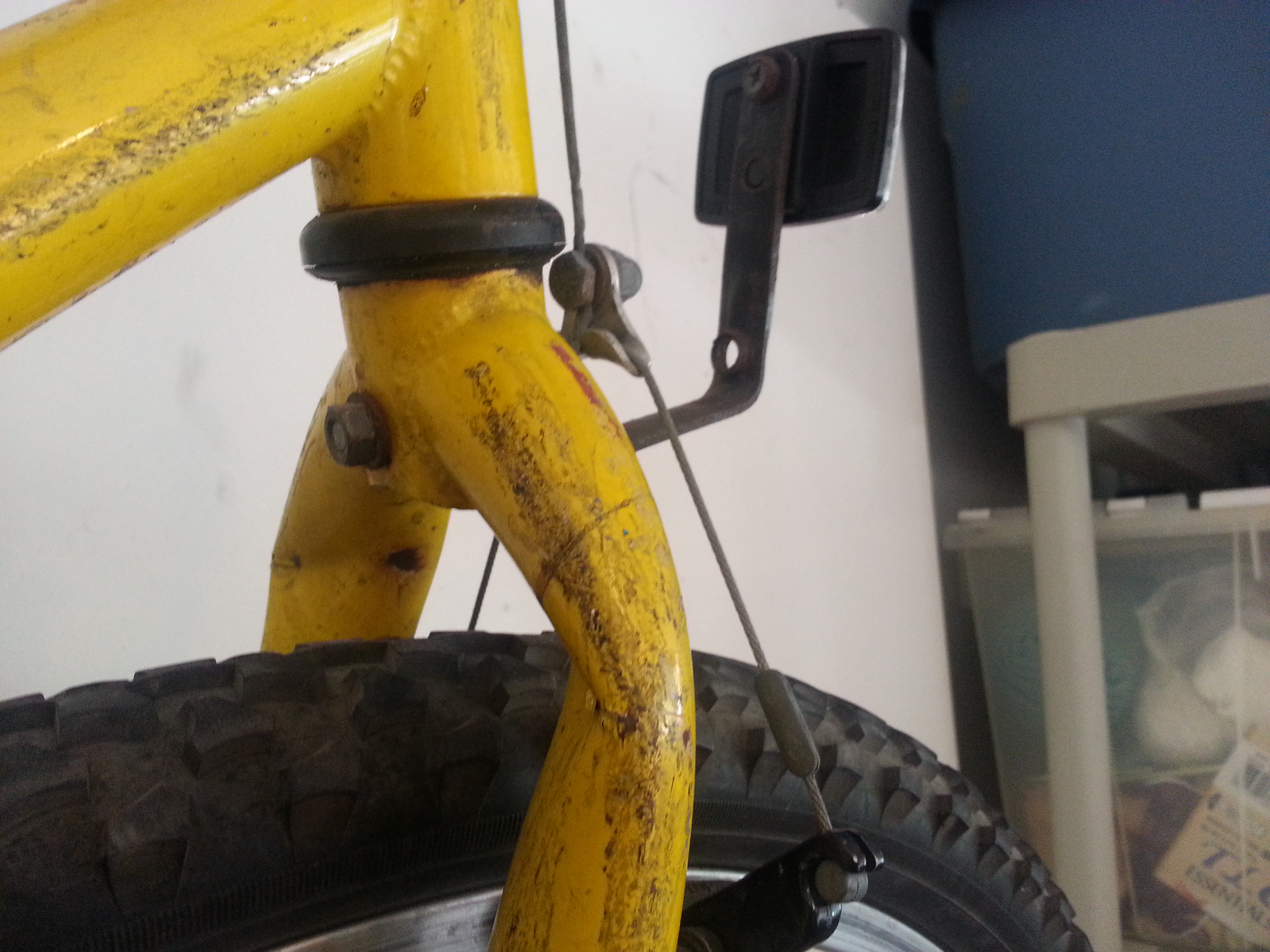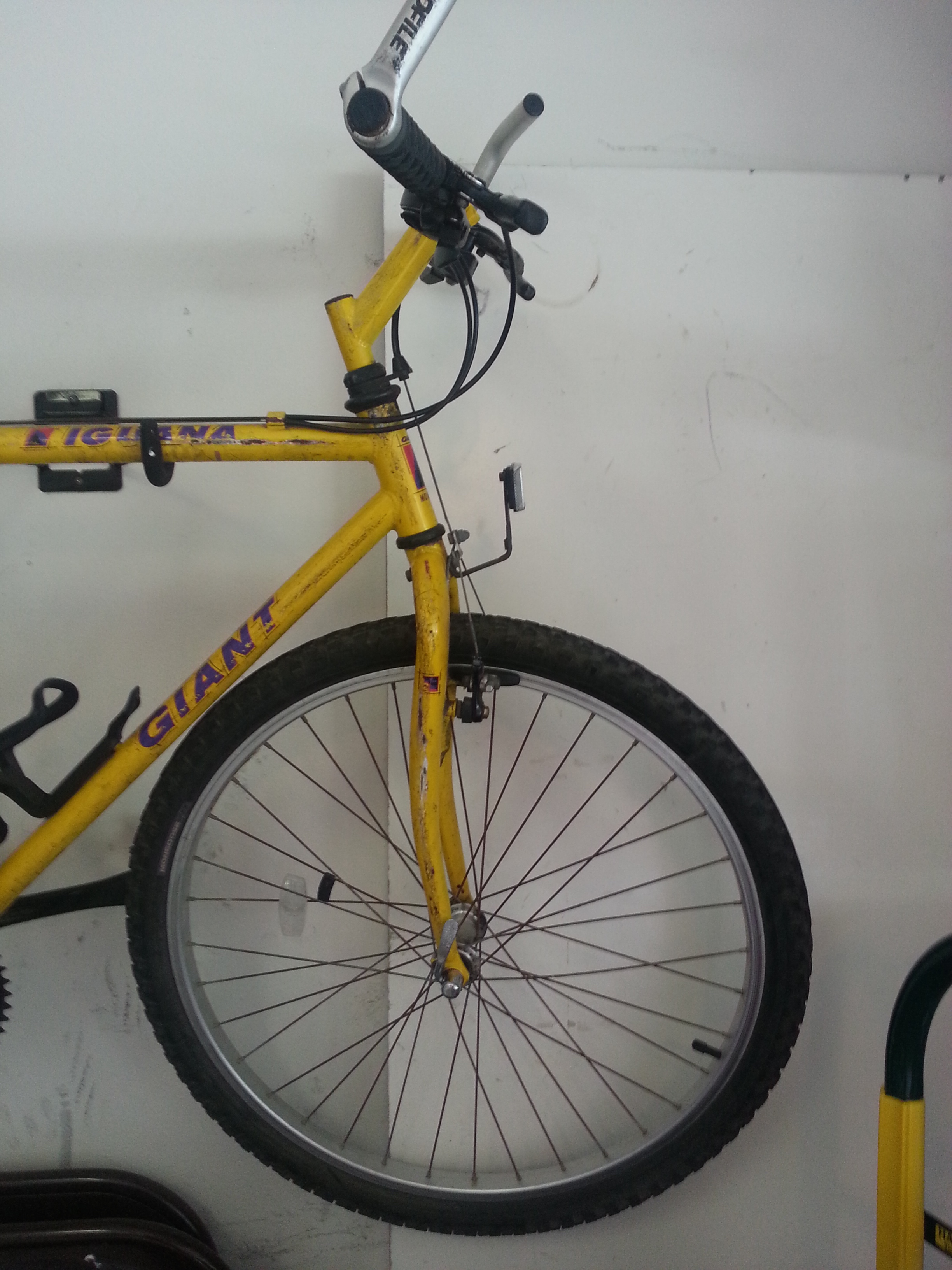 I stashed my bike in the front loader scooper shown above and retrieved it later. As I was walking home in my battered state I noticed that the approach from the other direction does have a warning sign, shown here. If such a sign had been present in my direction, I would not have had the accident.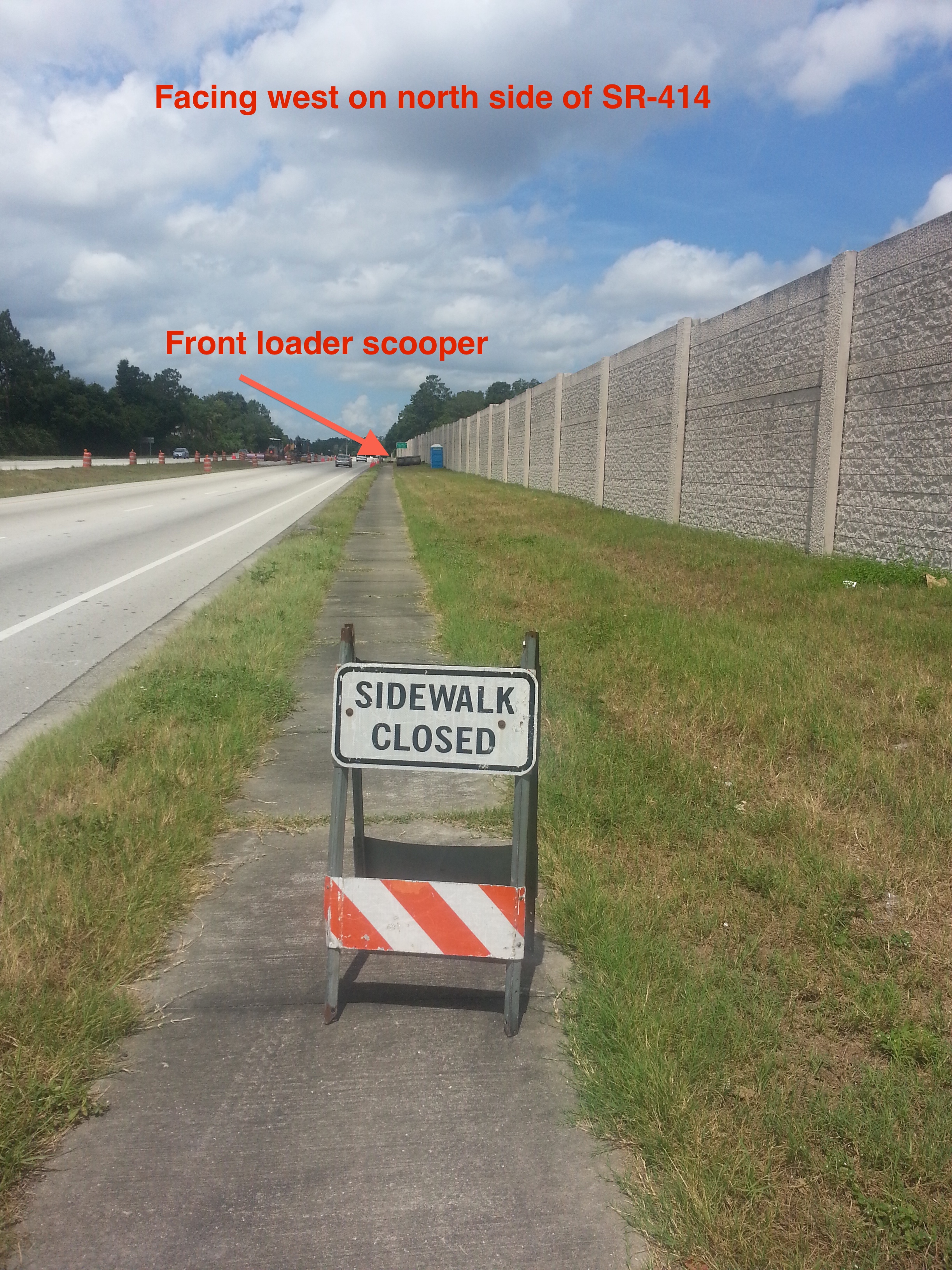 Now, to the injury. I went to the Emergency Department at Florida Hospital Altamonte. Several xrays were taken and revealed no bone breakage or shoulder dislocation. The diagnosis was "rotator cuff injury, sprain of shoulder, right". The good Lord was watching over me that night. It stands to reason that the law should provide for a warning sign on both directions of travel on a sidewalk, but perhaps one is sufficient. In any case, I consider this negligence on the part of the contractor doing the work.